Sambal Belacan
What is belacan?
Belacan, a Malay variety of
dried shrimp paste ,
is prepared from krill, also known as
geragau
in
Kristang
(Portuguese creole spoken in Malaysia) or
rebon
in Sundanese and Javanese. In Malaysia, normally the krill would be steamed first and after that are mashed into a paste and stored for several months. The fermented shrimp are then prepared, fried and hard-pressed into cakes.
Belacan is used as an ingredient in many dishes like Malay favorite sambal tumis which is sambal sauted in oil and has fish, meat or
ikan bilis
in it.. Sometime it is toasted to bring out the flavour, but that creates a strong odor. Any leftover roasted belacan may be kept in a container in the fridge for up to two months.
Penang,Kedah and Perlis incidentally makes the best belacan in the world.. SO GOOD!
What is Sambal belacan?
Sambal Belacan must be the only true Malay food trademark. You are not considered as a Malay if you do not like or perish the thought, never ate sambal belacan.
Sambal belacan is like a drug to spice-crazed Malaysians who need to get their tongues burnt as they savor their main courses and starters.
Sambal belacan usually is made of fresh red chilies or bird's eye chilies, a squeeze of lime, belacan and a little sugar.
Sambal belacan is distinguished from other kinds of sambal being that it is not cooked at all, rather, the ingredients are mixed together raw. The smell of roasted belacan is truly disgusting but what a taste you will enjoy a few minutes later!
Some people like it to be finely grounded while some people like some bits and pieces of chilies to be still visible when they tuck in. Sometimes, tomatoes are chopped inside the sambal and when the paste is used a a stuffing for fish, it is truly delicious! It is also an appetizer, used as a dip when you have raw vegetables like cucumber, salad green, long beans, angle beans and shredded cabbage. In Malay culture, all these raw vegetables are called ulam, some ulam-ulaman are unique to us, like boiled young noni's leaf (Daun Mengkudu) and also wild betel leaf (Daun Kaduk).
When you eat out for lunch at a typical Malay nasi campur restaurant, sambal belacan is always served in a HUGE pestle on the buffet table. People tuck in, get sweaty and grit their teeth in pain because of the fiery chilies but it is a small price to pay for this legal high. Coupled with grilled fish or other seafood, this condiment is really really a great complement. Here is my very own recipe of sambal belacan, via pounding in the stone mortar called 'Lesung Batu' and it's was told the taste is heavenly. Be careful not to let the juice get to your eyes - you might not stop crying
.
Go on, have a try. You will not regret it!!
6 fresh medium sized red chilies
4 medium sized red or green bird's eye chilies
2 inches long belacan (roasted)
Juice from 1 big fresh lime and 1 tea spoon tamarind juice
2 tsp sugar
1/2 tsp salt
Method:
Remove the stalks from both red chilies and bird's eye chilies.
Break the chilies into several pieces using your hand. (If you use a knife to cut them, the taste will not be the same!)
Put chilies, belacan,salt and sugar in the pestle.
Pound them with the mortar untill you get a

''gravy'' sorta texture.

Scoop the mixture into a bowl. Spoon two tablespoon of water into the pestle to dilute the remains of the sambal and pour the water into the bowl.
Add in lime juice and tamarind juice
It is ready to serve with hot steamed rice, fried fish, fish curry or any other dish such as fried rice and noodles ..dont forget also a big jugs of cold water to drink.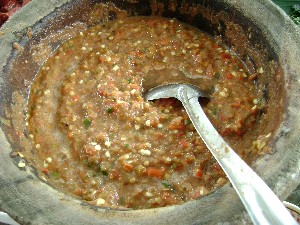 Stone Mortar or 'Lesung Batu'